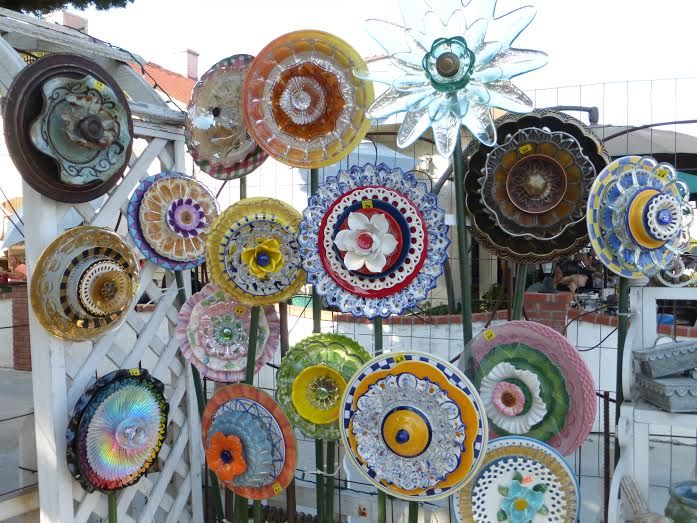 Plate Flower Class
Create unique, one of a kind 'flowers' for you garden.
The class will be a how to demonstration using all the items in the DIY Kit which includes the hardware for you to complete one flower, a diamond drill bit and instructions.
Prepare by shopping for at least 5 plates you feel compliment each other in size and color and bring them to the workshop. It is better to have a few extra to choose from. Debbie will also have an array of plates available if you want to shop from her 'stash'.
You will learn how to drill ceramic and glass and talk about design and color.
Cost: $30 which includes the DIY kit.
This class is limited to 8 people. Please call the shop to hold your spot!
Telephone: 714-289-4689
Go to http://www.dragonflyshopsandgardens.com to view all the available classes we offer! You will find that we offer over 30 classes, including Mosaic Tiling, Beading & Jewelry Making, Art Classes, Sewing, Summer Camps for Kids, Cooking Classes (the homemade cheese class is a favorite), Self Defense for Women & Kids, Fairy & Miniature Garden Workshops, Succulent Container Workshops, Canning, Gardening, Aromatherapy, Etiquette, How to be a Mermaid or Fairy, Ceramics, Scrapbooking, Smoothies, and so much more.
We also host great Birthday Parties at the Studio. The Fairy Garden for kids is probably one of our most popular. Visit this link to see all the other possibilities including, Art & Craft Parties, Beading Parties, Mermaid Parties and more. We've also hosted Fundraisers, Family Reunions, Bunco Alternatives, Bridal/Baby Showers and Garden Groups as well.
Let us know what you're interested in doing. If you have an interest in learning something that isn't currently on our calendar – just ask. We're always adding instructors and classes to our roster and we'll let you know when we have something scheduled that you would like. If you see a class or workshop that doesn't fit into your schedule – let us know. Gather a group of four or more and we'll see if we can create & schedule a class for you - we're pretty accommodating.
Be sure to visit us on our Facebook page at https://www.facebook.com/DragonflyShopsAndGardens to see additional photos of classes and current events.